IPL 2019: Drama, Debate, Destiny – Same pattern, different elements and a spicy rivalry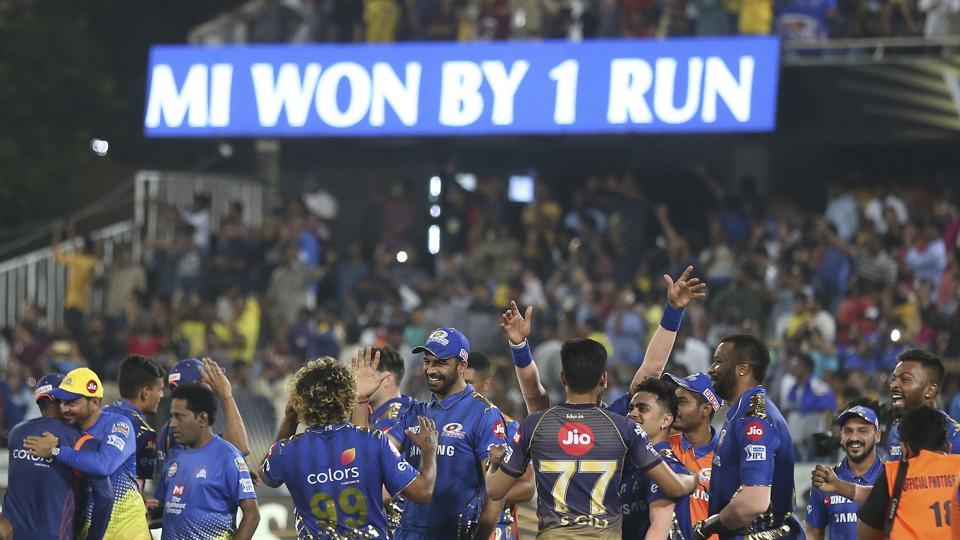 There is an inherent beauty in melody – it hums along, it captivates you, meandering with a rhythm and yet, it has to stop. And this is the thing with melody, it was perfectly captured by Nietzche, the German philosopher: "The end of a melody is not its goal: but nonetheless, had the melody not reached its end it would not have reached its goal either."
Make no mistake, the Indian Premier League is a melody, it captivates you, it makes you slip into a sense of unconsciousness, it can often force you to wake up from an extended slumber, and yet, for the jarring beats all around it, the product is inherently a melody – which cannot end, it just pauses, with a promise to surface again, to grab hold of your attention, all over again.
That this was the 12th season, that the games were longer, that players were more agitated, officials were under more scrutiny and results were down to the proverbial wire – everything added up and without any cuts, edits, and screenplay, it was enchanting, the action was surreal and it was immersing.
8 teams with refurbished squads, with new mentors, coaches, captains and tactics at the helm jumped in, and when the final four remained, it proved to be the closest season ever. 1 point was the difference between the wooden spoon holders and the fourth team to make it to the playoffs.
ALSO READ: Rohit-Malinga plan decoded: MI captain reveals discussion before final ball
IPL, as a product, loves itself, it gloats about its grandeur, almost commands you to fall in love too, and while, it receives its own share of flak, it just shrugs its shoulders and blitzes on. The arrogance can be off-putting for some, but in this contemporary world, where narcissism has become a synonym of confidence, it passes you by and forces you to sit, look at it, and march along.
Pure skills of the players make the IPL tick ( PTI )
However, for all the blaring ads, the often-disconcerting billboards, the vanity of brands falling head over heels to jostle for places on the jerseys, it is inherently a league which believes in good cricket, balance between bat and ball, and where players are allowed to take prominence and dictate the state of affairs. Amidst all the hullaballoo which is just a way of life these days, the frenetic and fickle nature of T20s feels like a calm, it is where skills, talent and temperament with the bat, ball and in the field matter the most. Scratch the surface and you will find that players have driven this model all these years, they play with their heart and soul, which translates into even contests, which then filters out to attract even more crowds and attention and lo and behold, the mollahs follow!
This season was no different and yet, this season was unique. An equal purse and an open auction too contributed.
It was no different because Royal Challengers Bangalore started sprinting when the race had ended, it was no different because Rajasthan Royals never heard the starting whistle, it was no different because Kings XI Punjab started like a flash and ended like a flash in the pan, it was no different because Kolkata Knight Riders were out of breath very soon because they started in such a huff.
And yet it was unique, because finally we were able to see the real Delhi (Capitals and no Daredevils) make a fist of things, it was unique because Mumbai Indians did not want to leave things to final week, it was unique because Sunrisers Hyderabad stumbled more often than not and yet, with only 12 points, for the first time in history, scraped through.
Also, there was Chennai Super Kings, a team which could well have started in the finals, and watched other teams scramble around.
ALSO READ: CSK coach hints changes in 'ageing' Chennai Super Kings squad
Bowlers win you tournaments and this season vindicated it perfectly
Bumrah's stocks are forever on the rise ( AFP )
Chennai Super Kings owe their success mainly to MS Dhoni and the way he handled the bowlers. The batting was mediocre at best, but CSK have made best use of their home conditions to have four of their bowlers among the top 15 wicket-takers of the tournament. Delhi Capitals were excellent too, Kagiso Rabada lit up the IPL with his bowling and along with Ishant Sharma in the Powerplays, Delhi were a force and a half. Mumbai Indians had perhaps the most-settled bowling attack and five of their bowlers claimed ten wickets each.
Rashid Khan did not get enough wickets this season, Bhuvneshwar Kumar too was not as successful, but they were not very expensive and with the addition of Khaleel Ahmed, they were smart and hence, in the playoffs.
We take a look at how the teams fared in the powerplay overs:
CSK never allowed the opposition to get off the hook, as they bossed this phase with the best bowling average of 29.65 while going at 7.83 runs per over. Kings XI and Royal Challengers Bangalore suffered in this phase as they averaged 65.58 and 50.71, and taking only 12 and 14 wickets respectively. A certain indication of where they slipped, a certain cause of worry and one that needs to be plugged in the next season.
And now we see how these teams fared in the death overs, where a majority of the games are dictated. While CSK controlled proceedings once again with an economy of 8.1 (From overs 16-20), KKR were the worst with 10.78. RCB were forever floundering as they leaked runs at 10.49, Mumbai Indians, Sunrisers Hyderabad and Delhi Capitals were quite consistent with 9.65, 8.92 and 9.03 respectively.
So while the batsmen hog all the headlines and accolades, this season was once again a reminder that a side powers through only when the bowlers are able and willing.
Remember the times batsmen scoring more than 400 runs was considered to be a privilege, their careers would take off after such a 'stellar' season, perhaps even a callup to the national side was on the cards. All fair results, except this season, there were 16 batsmen with more than 400 runs against their name. Four of them screamed past 500 and one David Warner was flying at 692 when he had to return to Australia to wear that national jersey after one whole year. Yes, this melody was intense, riveting and so skilful!
For all their bowling woes, Kings XI Punjab was the most consistent batting side, well as far as their average of 31.43 suggest. KL Rahul, who looked sublime, aesthetic and a million dollars, peeled off 593 runs all by himself.
And then there was KKR, a side which hinged around Andre Russell and then later found out Shubman Gill. They averaged 30.15, but were ousted, and like they say, batsmen can only win you matches, bowlers win you tournaments.
RCB were last because coupled with their bowling woes were their shortcomings with the bat. There was Virat Kohli, there was AB de Villiers and yet there was disappointment. An average of 25.34 is just not enough when the bowlers never found their rhythm all through the season.
RCB started sprinting when the season had ended ( AFP )
Well, Kagiso Rabada had the purple cap, before Imran Tahir eclipsed him in the final, David Warner the orange one and yet, Delhi Capitals and Sunrisers Hyderabad were not in the finals. Mumbai Indians made it, they beat CSK thrice on the road and well, if CSK start their IPL campaigns from the playoffs, who would actually mind?
Have you noticed the pattern, it probably would have missed you, because year after year, the pattern is the same. Controlled bowling, strategic batting and tactically smart captaincy. The elements have been different this year, but the pattern is still the same.
ALSO READ: Better than MS Dhoni: Rohit becomes IPL's most successful player
Flashpoints and frayed tempers
R Ashwin is a thinking cricketer, he is feisty, and he never shies away from a challenge. Hence, when he paused, waited for Jos Buttler to meander out of his crease and took off the bails, it sparked off a row. 'Mankad' was the buzzword, there were polarising opinions, not for Ashwin, who shrugged it off as one of those things which just happened because it is written in black on a white sheet of paper known as the rules of the game.
Buttler was 'Mankaded' by Ashwin ( AFP )
Zoom ahead, MS Dhoni has been dismissed, CSK are in a bit of a hole, Mitchell Santner faces a ball, it was above the waist, the umpire outstretched his hand, and then rescinded the decision. Ravindra Jadeja argued, MS Dhoni walked back on the field, he had an animated discussion with the umpire and in this case, those very rules of the game were tossed aside and yet, there was not enough said and done about it.
And then there was Virat Kohli, trying to lead a side which was looking around for some hope. On good days Kohli is animated, pumping his fist, thumping his chest, and this season was not good. He was vocal, not quite parliamentary and had to conjure up excuses after every loss. The umpire missed a no ball very early in the season which many believe cost them the match and a possible slot in the playoff, so the skipper made it known that this was just not done and they were no playing 'club cricket'. Well, but IPL is about clubs and franchises, pardon the words, Kohli was right about the appalling standard of umpiring right through the season, which needs to be discussed elsewhere.
World Cup squad – In and out, right and wrong
In the midst of all the madness, India's World Cup squad was announced. There was no Ambati Rayudu, there was no Rishabh Pant. There was Dinesh Karthik and Vijay Shankar. Nothing was right or wrong, but debates followed. Pant, however, tried to swat away the disappointment much like the way he swatted away balls over mid-wicket and was an absolute joy to behold. Perhaps, he could have been India's X-factor in England, perhaps the selectors knew better, but the young man showed he has the game and possibly the temperament to control only what he can control.
Talking of controllable, Hardik Pandya was out of control – this time for all the right reasons. He redefined his batting, he redefined the way final few overs should be looked at. He has made all the right noises, and if Yuvraj Singh is to be believed, he can be the man who will be the difference in the upcoming World Cup. Yuvraj did a similar role back in 2011, so there is some thought behind this assessment.
Foreign contingent – Hit and miss
David Warner was a man possessed this season ( AFP )
For David Warner, this was a watershed season, back after being banned for one year, he was a man possessed. Taking guard as the opener for Sunrisers Hyderabad, he was absolutely relentless. In 12 innings overall, he made 692 runs at 69.20, striking at 143.86, with one century and eight 50s. He was on fire, and well, Australia will sleep better.
Jonny Bairstow loved it in the IPL in his debut season. With Sunrisers Hyderabad this year, he raced away to his best T20 season ever, even topping the 2014 effort with Yorkshire, where he made 355 runs in 11 innings.
445 runs in 10 innings and the very fact that SRH were manage to claw their way to the playoffs was down to the Warner-Bairstow impact at the top of the order.
Jofra Archer is finally an England player and his performances in the IPL continued to impress everyone. However, for Ben Stokes, it was a disappointment and after the MVP performance for Pune in the first year, it has only been downhill for him. He mirrored Rajasthan's performance all along the way.
And after all this, the highlight of the season was the madness, the power of Andre Russell, which was even more accentuated considering the lack of support from any other quarter. He changed as many as five games all by his own bat, he kept no one guessing when he said he wanted to bat higher up the order, he even drew flak for hitting out his skipper and management in public, but amidst all these shenanigans, Russell reminded us exactly why we love Caribbean cricket. Oh, well, and he is even in West Indies' World Cup squad.
The final chapter
Malinga hoisted by Pollard ( AFP )
It was an evening of underperforming batting orders, underperforming fielding units, two tactically astute captains and jangling nerves. For CSK needed 150 for that fourth crown were cruising along, for Lasith Malinga, who is forever trying to prove his worth to his national team rocked up to bowl that final over. And it was after a harrowing night for him – 42 runs in the last 3 overs, a missed run out, a dropped catch and forever an immovable object in the field.
But here he was, with the white nut in his hand, kissed it and jogged forward, keeping in mind not to rupture the already creaking knees. And in the echoing silence, he was isolated and defended 9 off the final over. All this came, after his prodigy and now a star, Jasprit Bumrah had set it up perfectly for the stalwart to own the stage.
CSK were never meant to lose it, Mumbai were not going to lose it, there was technology which only added to the woes of the umpires and then there was that final hurrah.
Pollard hoisted Malinga on his shoulders – two veterans starred, two veterans combined to beat a team of veterans. Well, it was supposed to be a format for the young turks – but then, well, melody does not quite bother about the artists performing, it is all about performance.
ALSO READ: 'Now want to win World Cup,' says Hardik Pandya after Mumbai Indians' fourth IPL title
It will eventually fizzle out
Ahhh, the melody, this serene, soothing rhythm called cricket, was there to unite us all for 60 days, and even when it got desperate and even when a million sponsored awards kept spilling out, cricket – a simple game between bat and ball stood out and reminded us all about the inherent beauty. Mumbai Indians were the champions, Chennai Super Kings were champions too, IPL is a champion. So now, let it pause. Until we all dive into the madness all over again.
The frenzy will fizzle out, the evenings will find another context, and the IPL would be shunted away to a corner. Few whispers here, few movements there, but then it will all be background noise for the next 12 months, when it will finally erupt and force you to look at it and march along.
For now, since the melody never stops, let it pause!
First Published: May 13, 2019 14:21 IST Must See
Shooting is all about that unwavering focus, a sort of tunnel vision to excel...

In a major setback to aspiring Indian gymnasts preparing for the 2020 Tokyo Olympics,...

PV Sindhu will play her first tournament following the World Championship triumph at the...