India vs West Indies Live Score 2nd Test Match Day 1 at Sabina Park, Jamaica: India eye strong start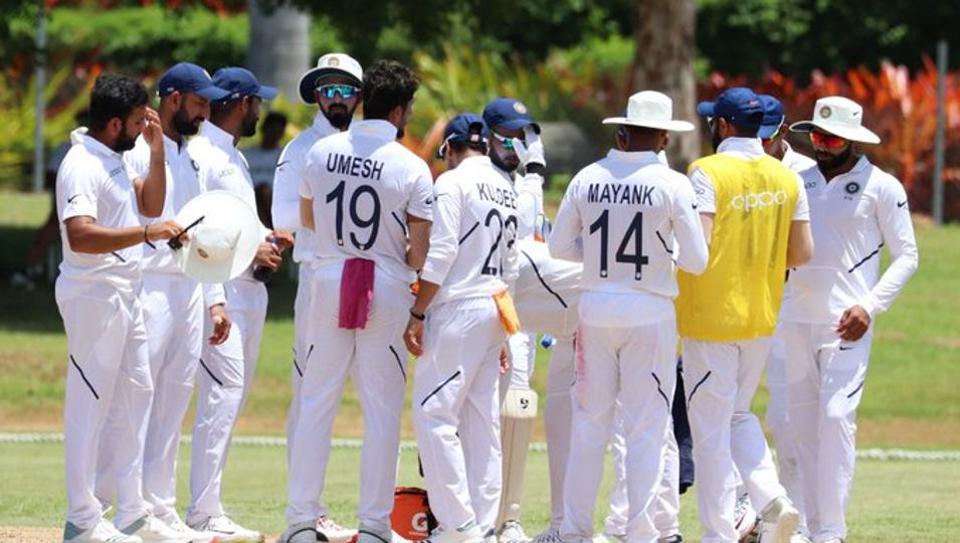 India vs West Indies 2nd Test Day 1 live: India will look to seal the two-match series when they take on hosts West Indies in the second Test match at the Sabina Jamaica. India had beaten West Indies by a comprehensive margin of 318 runs in the first Test at Antigua but what would give them greater confidence is the fact that they bowled West Indies out for a 100 in the second innings. The bowlers were in full Jasprit Bumrah and Ishant were in top form but the biggest gain was vice-captain Ajinkya Rahane's return to form.
Follow India vs West Indies live updates here:
18:55 hrs IST
How Manan Vohra's injured thumb turned Hanuma Vihari's career around
India were taking on England at the Oval. James Anderson had the ball in his hand, the clouds had rolled in and the lights were on. On any given day and under any conditions, Anderson gets the ball to talk – here, under the clouds, the ball sang, it blared out tunes which were too difficult for the Indian batsmen to decipher. Cheteshwar Pujara and Ajinkya Rahane perished, Virat Kohli was finding it tough to counter the movement and in this din, out walked Hanuma Vihari to mark his guard and start his Test career. Anderson kept landing the ball on a length and he kept jagging it away – Vihari was comfortable leaving them. He then banged the ball in and Vihari was hurried, a top edge pull got him going and the young man, in a trial by fire, scored a half-century on debut.
READ MORE
18:40 hrs IST
Ganguly predicts result of Test series, identifies key Indian player
"One must also mention the efforts of Ravindra Jadeja. He didn't lose belief even though he hasn't been a regular in the side lately — be it in ODIs or Tests. He came out and played a terrific knock in the World Cup semi-final and in the first Test too, he delivered when India really needed it," Ganguly wrote in a column on TOI.
18:30 hrs IST
'Bumrah classy but Ishant is the leader'
For all the early and sustained success of Jasprit Bumrah, fast bowling legend Andy Roberts thinks Ishant is the leader of this Indian pace attack. "In Test matches, Ishant Sharma has shown that he is the leader of the pack. Although, Jasprit Bumrah because of his uniqueness is making the most of the spotlight," said Roberts over phone from Antigua. "Whenever India is in trouble and they need wickets, they revert to Ishant Sharma. That is what a leader is all about. He uses his gift of height a lot. He is no longer 19, he is approaching his 30s, and bowls very consistent line and length."
The experience Sharma has earned over the years, playing at the highest level for nearly 12 years now, adds an extra edge to his abilities in terms of situational awareness and conditional understanding. It's not been an easy ride for him, and the struggles have also contributed to the maturity to understand the various challenges of fast bowling.
READ MORE
18:10 hrs IST
Ravi Shastri turns presenter again in 'date with Bob Marley' – WATCH
Indian cricket team head coach Ravi Shastri refreshed his memories on his visit to the Bob Marley museum in Jamaica ahead of the second Test match against West Indies, starting Friday. Shastri was accompanied by India's bowling coach Bharat Arun and fielding coach R. Sridhar.
WATCH VIDEO
17:50 hrs IST
Jadeja needs just six wickets to go past Harbhajan in illustrious Test list
India all-rounder Ravindra Jadeja is on the verge of adding a fresh feather into his cap in the second and final Test against West Indies at Kingston Cricket Ground in Jamaica starting Friday. The visitors lead the series 1-0 courtesy of their 318-run win in the first Test in Antigua and will look for similar level of performances in their final match of the tour. Jadeja, who put on a good all-round show in the first Test is likely to retain his place in the side and can achieve a massive feat at this iconic stadium.
READ MORE
17:30 hrs IST
Pace is our backbone, says Jason Holder
"Pace is the backbone of our side. We have done well with our seamers. Roach and Gabriel have been outstanding. I have also been supporting the bowling line up. We have relied heavily on our pacers from the last couple of years. Hopefully, we continue to keep our pacers fine and hope we get 20 wickets in this Test match," Holder told reporters.
READ MORE
17:08 hrs IST
Kohli sets sight on Ponting's position in elite list led by Smith
Virat Kohli and records go hand in hand. Whether it's with the bat in hand or leading his troops in the field, Kohli has been breaking records for fun. India's second and final Test of the series against West Indies at Sabina Park Jamaica is set to be no different. Kohli once has a chance to get into the record books.
The Indian captain is one century away from climbing to the joint second spot for most number of Test centuries as captain. Kohli will equal former Australia captain Ricky Ponting's tally of 19 centuries if he gets to the three-figure mark in the second Test at Jamaica. Currently Kohli has 18 centuries as a captain.
READ MORE
16:50 hrs IST
Rahane got emotional after scoring first Test century in 2 years
India vice-captain Ajinkya Rahane says scoring his 10th Test century after a drought of two years was special and he became "a bit emotional" after reaching the feat in Antigua. Rahane played match-winning knocks of 81 and 102 in the first Test against the West Indies which India won by a huge margin of 381 runs in Antigua.
"I thought 10th hundred was really special. I wasn't thinking about any particular celebration, it came out automatically. I was a little bit emotional," Rahane told reporters.
READ MORE
16:37 hrs IST
India Predicted XI
There were lot of questions raised when Ravindra Jadeja and Ajinkya Rahane were picked in the first Test team over R Ashwin and Rohit Sharma. But after good performances, will they retain their spot in the playing XI in the second Test.
READ MORE
16:15 hrs IST
Kohli should be credited for India's renaissance in pace bowling: Balaji
"For me it is the best fast bowling attack as far as the balance is concerned and the kind of the exposure they have been getting. Also, all of them are different and bring different traits to the table which has led to a healthy competition in Indian cricket."
– Lakshmipathy Balaji
READ MORE
15:55 hrs IST
India vs West Indies 2nd Test
Hello and welcome to the live coverage of Day 1 of the India vs West Indies 2nd Test match at the iconic Sabina Park cricket Stadium in Kingston, Jamaica. We are in for a cracker here, this the beauty of a two-match game, you slip in the first match and there's no breathing space. West Indies need to win this match to save the series and all India have got to do is carry on the way did in Antigua. Must See
Shooting is all about that unwavering focus, a sort of tunnel vision to excel...

In a major setback to aspiring Indian gymnasts preparing for the 2020 Tokyo Olympics,...

PV Sindhu will play her first tournament following the World Championship triumph at the...