James still reigns in Lakers' bubble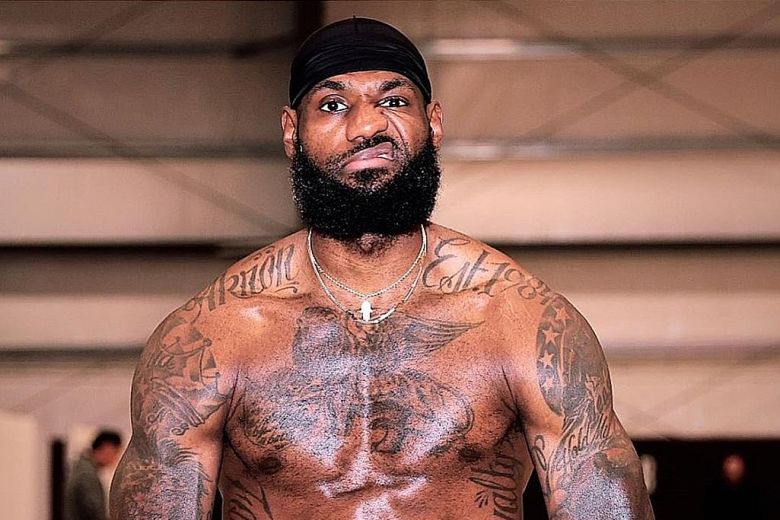 NEW YORK • LeBron James has seen a great deal during his 17 seasons in the National Basketball Association (NBA). He has already won three championships, and now aspires to earn his first with the Los Angeles Lakers (49-14), who lead the Western Conference standings.
At 35, he is one of the oldest players in the league, with patches of grey showing in the beard he grew out during the four months he recently spent in relative seclusion.
It is not often, then, that he finds himself in a new environment, coping with unusual circumstances that no one could have seen coming.
But there he was on Thursday night, stationed on the foul line in a largely empty arena at Walt Disney World, barking defensive assignments at teammates as operations crew piped in artificial crowd noise.
James had not played basketball for the television-viewing public in 135 days, since the NBA suspended its season in March because of the coronavirus pandemic.
But if there were questions about how he would look in his return, as the Lakers faced the Dallas Mavericks in a scrimmage before the league's official restart on Thursday, he crammed his 15 minutes of playing time full of answers.
In short, "King James" looked exactly the same.
There are so few guarantees as the NBA hopes to finish the season in its so-called bubble at the sprawling theme park near Orlando, Florida, but James seems determined to fill his familiar role.
Against the Mavericks, he collected 12 points, five assists and three rebounds. He watched the second half from the bench, where he put ice packs on parts of his body.
The Mavericks' 108-104 victory in a game with 10-minute quarters was an afterthought.
"We wanted to try to get better," James said. "We're using this moment as a training camp to implement our identity, and our identity is to defend, share the ball, push the tempo and play together. I think we were able to accomplish that for as close to 40 minutes as possible."
Sceptics have suggested that this season – interrupted and uncertain – will come with an asterisk.
James does not subscribe to that theory.
As the window on his career narrows, he wants to seize another crack at a title. History will not remember that he won his fourth ring in a bubble.
Giannis Antetokounmpo would love to win his first. The Milwaukee Bucks' do-everything forward and the league's reigning Most Valuable Player described the format as "the toughest championship you could ever win, because the circumstances are really, really tough right now".
Players had to stay in shape during the long layoff, and even now, teams are short-handed.
Like the Lakers, the Bucks made their Disney debut on Thursday. And in a 113-92 win over the San Antonio Spurs, the Bucks were without Eric Bledsoe, their starting point guard, and Pat Connaughton, one of their reserves. Both players recently tested positive for Covid-19.
As for Antetokounmpo, 25, the odd atmosphere became apparent to him when he went to shoot free throws in the first quarter.
"It was just quiet," he said. "But at the end of the day, you play basketball, try to make the right play. So for me personally, I tried to lock in."
The "Greek Freak" also said that he felt out of shape, adding that he hoped to spend the next couple of weeks ratcheting up his fitness.
All he did against the Spurs was score 22 points in 21 minutes. Imagine the havoc once he is fit.
The Lakers are dealing with some absences too.
Avery Bradley, their top perimeter defender, opted out of participating in the restart, citing family reasons.
Fellow guard Rajon Rondo is expected to miss several weeks after fracturing his right thumb, and Alex Caruso, another backcourt player, has a back injury.
James often has the ball in his hands regardless of his supporting cast, but it is a safe assumption that he will be his team's primary facilitator throughout their stay at Disney.
One scrimmage is a small sample, but he was the driving force. And it worked out well, per usual.
"You've got to create your own energy here," James said. Must See
Shooting is all about that unwavering focus, a sort of tunnel vision to excel...

In a major setback to aspiring Indian gymnasts preparing for the 2020 Tokyo Olympics,...

PV Sindhu will play her first tournament following the World Championship triumph at the...