The time Charles Oakley dumped a bottle of liquor on a Raptors teammate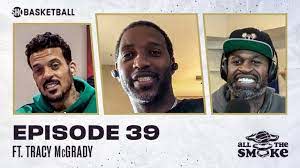 They were on full display in this story told by Oakley's former Raptors teammate, Tracy McGrady.
McGrady on "All The Smoke:"
I ain't going to say my man's name. I don't want to put him out there like that.
We're flying from Toronto to Sacramento. Bro, this is a long-ass flight, right? These boys got the big bottles of Jack Daniels.
The whole plane ride, they're drinking like crazy. I'm talking about, they've got a bunch of bottles.

We land in Sacramento, and Oak is looking for the last bottle. My man don't even want to drink no more. So, he hid the bottle under his seat.
Oak walking up and down the bus on the way to the hotel. "Hey, man. Where the motherf—ing bottle at? Who got that last bottle?" And, boy, somebody pointed at buddy. "Hey, where the motherf—ing bottle at? You hiding the bottles?" Dog, Oak was looking around him, grabbed the bottle.

Mind you, the dude is from Sacramento. Clean suit. He going home to see the fam.

Big-ass bottle. "Oh, you trying to hide the bottle. Oh, you don't want to drink no more? Alright, motherf—er, you're going to wear this." And drenched it on him. The whole bottle, bro.
Bro, the whole bottle on him.

Buddy sitting there like mad as hell, like ready to get up. Nah, chill, dog. Take that. We're telling him, "You've got to eat, dog."
No doubt it would've ended up worse. That's why we was like, "Hey, you've got to take that, player. You've got to take it. Don't do it, man."
I'm 19 years old, bro. I'm like, "Hey, man, I ain't messing with this dude, bro."
But I love that cat to death, though, because he's ride or die for you.
McGrady and Oakley played together in 1999 and 1999-00. The Raptors player from Sacramento in that era: Michael Stewart.
Except the Raptors never would've flown from Toronto to Sacramento in either season.
The Raptors didn't play in Sacramento (or any West Coast city) during the 1999 lockout-shortened season. In 1999-00, they played in Sacramento only in the middle of a West Coast road trip.
Maybe there was a different initial destination. The 1999-00 Raptors started West Coat road trips in Los Angeles and Vancouver. No Toronto players were from those cities, though Doug Christie is from Seattle. Is Vancouver close enough to qualify as a homecoming?
With McGrady misremembering details years later or changing the story to protect the victim's identity, it's impossible to definitively deduce the liquor-soaked player.
But of course the aggressor was Oakley, who had a unique ability to act that way and still have a teammate's lasting impression be, "I love that cat to death." Must See
Shooting is all about that unwavering focus, a sort of tunnel vision to excel...

In a major setback to aspiring Indian gymnasts preparing for the 2020 Tokyo Olympics,...

PV Sindhu will play her first tournament following the World Championship triumph at the...